LATEST NEWS FROM NEWFASHION
2021
Welcome to the news
page of our brand spanking new
web site, it is our intention to keep you up to date
with all the changes that occur on a regular basis.
Here you will find news on new
arrivals, show results
and special
achievements that relate to our dogs and our breeding program
.
Please check
back often for updates and don't forget to sign
our guest book to let us know what you think
10/05/21
EXPRESSIONS OF INTEREST NOW OPEN.
We are now accepting expressions of interest in our current litter from Tobias and Jemima.
There are three black males available, two with white markings.
There are three black females available, two with white markings.
puppies have now been vaccinated and microchipped and have passed their health checks.
what we are looking for in your application-
Your name address and contact details.

Your experience in raising a giant breed by and in particular the Newfoundland

Your home situation, if you are renting we will require a letter from your landlord stating you can have a dog.

any other pets?

Your willingness to sign and abide by our purchase contract, (this will be sent to you once your application is successful.

Your preferred sex for your puppy.

Applications close one week from today, puppies will be ready to leave in approximately two weeks time.
please send written applications via email only, [email protected] with the heading puppy application.
Previous unsuccessful applicants who asked for their applications to be held over are encouraged to update us on their interest.
Good luck and we look forward to hearing from you.
20/04/21
A quick update as we have had so many enquiries. Jemima's babies have arrived safe and sound and are doing well, males and females will be available in the coming weeks. We will call for formal expressions of interest in approximately three week time.
please note these puppies are completely imported lines and their sale price will reflect this.
We are also looking for forever homes for two adults, a brown male and a landseer female, both can only be placed as an only dog, please email for more details.
15/02/2021
The wait is over!!
Today we received confirmation that our lovely Jemima, (UDESSA Mississippi Missouri Faundland IMP SVK) is having babies in March.
Sire if this litter is Tobias (SHADOW Mississippi Missouri Faundland IMP SVK)
puppies will be predominantly black. Please do not send expressions of interest until further notice, however initial enquires can be made via email or telephone call.
In further news, IVAN has arrived
We are thilled to welcome Sent Djons Russian With Love To Newfashion (IMP RUS), check out his page in profiles.
24/09/2020
We are breaking a bit with tradition and are inviting early expressions of interest in puppies that will be available.
This is because the coordination of a number of puppies will take some time.
Please note these are not specific to any one puppy but relate only to colour and sex.
Given there are four weeks between each litter, your application will apply to all three litters
Your application should include the following information.
Name, address and contact details.
Your experience and knowledge of raising a giant breed. particularly the Newfoundland.
Your expectations of the type of puppy you prefer. Colour, Sex etc.
Your living/work situation
If you are renting, then we require written evidence from your landlord allowing you to have a large dog.
If you are successful in securing a puppy you will be notified by email as soon as possible and receive a copy of our purchase contract. This includes our terms and conditions, desexing obligation, feeding routine and general information. Pet insurance must be in place prior to taking possession of puppy. A deposit to secure your puppy will be required at this time, balance is due prior to puppies departure.
Please send all applications via email only with the subject heading Expression of Interest plus your name.
Email to [email protected]
Remember if you live outside of South Australia it may take some work to arrange flights to your closest airport.
This is not a first in first serve process. We are looking for the very best forever homes for our babies.
Available puppies will be
Landseer Males
landseer Female
Black Males
Black Females
Brown Females
Please note, previous expressions of interest received prior to this notice will need to re submit.
We wish you the very best of luck, and look forward to ensuring the very best forever homes for our babies.
22/08/20
Today we learned that River (Newfashion Five O Clock Obsession) is also pregant to the lovely Marvin INT CH, CH Capebass Maconna Classic) puppies will be brown and black and will be due late september
19/08/20
Thank you to everyone that has sent enquiries regarding our recent and upcoming litters.
puppies are doing great and a new photo album has been started under the puppy menu. Regarding expressions of interest, once puppies have passed thier health checks in approximately four weeks time we will commence the process. We will past a notice here with details of what information we will require.
25/07/20
Further news on puppies, today Mona (Newfashion Ready Steady Wiggle) was also confirmed pregnant to our magnificent BJ (CH Newfashion Calls The Shots) See profiles for details.
puppies will be both Landseer and Black and are due in late August.
more updates as things move along. and stay tuned for more exciting news the coming weeks.
In other news, new pages added today for Dolly and PT and Roger under the profile menu.
25/06/20
We know a few people have been waiting on some information regarding our next litter, we have been inundated with calls and emails, so today I am happy to announce that Riddle was today confirmed pregnant to B.J.
Black and Landseer (White and Black) puppies will be due in August. Please wait until further notice before sending in an expression of interest. Once puppies arrive we will update the puppies page with photos for you to follow.
Stay tuned for further news in the next few weeks.
09/01/20
Puppy availability.
Due to a last minuet cancellation we have a brown male puppy available now to the right home.
please contact us for more details.
07/11/2019
We have another new champion, Promise (Newfashion Keeps A Promise) gained her Australian Championship in style, congratulations to her owner Marianne Howie, This is the fourth from this mating to gain their title.
We also have a new arrivals announcemnt, we welcome five brown babies from Kola and Miranda born 24th October 2019. A dedicated puppy page will be added soon.
11/08/2019
We have received great news from NZ, tody Millie will now be known as NZ CH Newfashion Revival For Seabound. Congratulations to owner Sharleen on her success.
ALSO great news from Russia where Aussie will now be known as Russian Grand Champion Newfashion The Crowd Goes Wild, congratulations to Julia SENT DJONS kennel in Russia. We are extremely proud proud of this boy.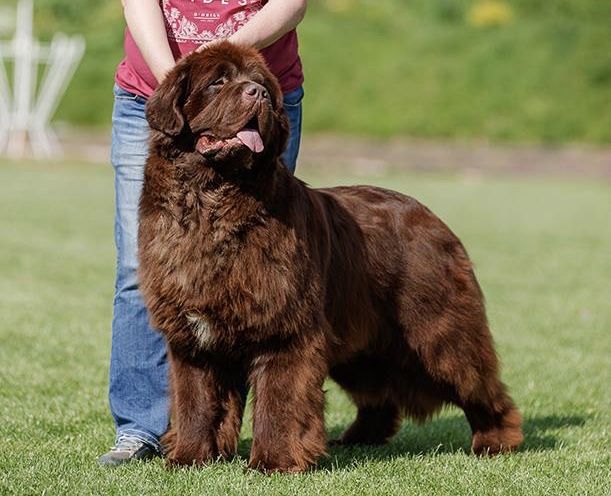 Puppies were born from Ella and Mona. We are now taking expressions of interest in writing from prospective new families. Applications may be received by email to [email protected] and should include your experience with the breed, your living/work situation, please note if you are in a rental property we require proof of acceptance from landlords regarding keeping a large dog.
Applications will be assessed over the next few weeks with successful applicants being advised. At this time a deposit will be required to secure your puppy.
For those of you that have already applied, there is no need to resubmit, your applications will be assessed along with any others received.
We have commenced two new pages under puppies for photos, these will be updated as often as time permits.
Thank you for choosing a Newfashion Puppy to join your family.
18/06/2019
For those that have been patiently awaiting this news, we are happy to be able to let you know that both Ella and Mona are due to have puppies in July.
Please contuct us for more details.
02/01/2019
We are now taking expressions of interest on two black female puppies from our latest litter
please email in the first instance including the following details
your experience with large dogs
your living situation
are you in a rental property
do you work, if do who will be there for puppy
we look forward to these girls going to the perfect homes
08/11/2018
We are happy to announce the safe arrival of Miranda and Simon's babies.
they are a family of 8, four black girls, one brown girl, two black boys and one brown boy.
We will be taking expressions of interest in approximately six weeks time.
03/10/2018
Great news for those who have been following our site. Miranda has been diagnosed as being pregnant to Simon, Black puppies and Brown puppies are due in early November. We will take expressions of interest once the litter is seven weeks old.
In other news are dogs did extremely well at both the Adlaide and Melbourne Royal Shows, taking Best Of Breed at both.
24/08/2018
We are pleased to let you know that our litter of four from Ura and Casper has arrived safely on the 17th August.
Looking for a new home:
We also have an 18 month male Landseer junior looking for a new forwever family. He will be for sale to the right home only and will not be available as a show or breed prospect. Plese contact us via our contact us page for more information.
22/07/2018
We are thrilled to announce that our import girl Mississippi Missouri Ura is confirmed pregnant to CH Newfashion Sure To Be Sure, puppies due mid August.
Watch this space for further updates.
06/07/2018
EXPRESSIONS OF INTEREST: Our puppies are now seven and a half weeks old and we have made decisions on which will remain to form the continuation of our breeding program.
we now invite interested parties to submit a written expression of interest for the follwing puppies.
Black female puppy, microchip number 978101081847163
Mismark male puppy, microchip number 978101081847075
written submissions can be emailed directly to [email protected] or through the contact us form on this site, information should include, your name, address, state, country, your experience in raising a giant breed, your home and work situation, where will puppy be housed, other pets in household.
please note if your application is successful that all of our puppies are homed on a contract which will need to be signed and returned to us prior to puppy leaving.
Our Dogs SA registraion number is 5100019214 please feel free to contact Dogs SA on 08 8349 4797 to verify our membership.
11/05/2018
We are happy to announce the safe arrival of pupppies born today from Simon and Rebel. There are five girls and one boy, all are black, some with white markings. We will be taking expressions of interest in the next few weeks on available puppies.
08/04/2018
Another new Champion made up yesterday, CH Newfshion Riddle Me This obtained her tiitle under a panel of international judges.
In other news, YES we are expecting puppies in the second week of May. Our Rebel is pregnant to Simon, brown and black babies are expected. We will call for expression of interest once the puppies are a few weeks old. Watch This Space
25/02/2018
Great news, we have a brand new champion, congraulatons to CH Newfashion No Sheet Sherlock on gaining his title
new photos soon.
in other news, both Cora (Ch Newfashion Kiss The Blarny) and Rebel (Newfashion Proves A Point) have both had their health clearence and have come back with fabulous results, this means that they will hopefully perfornimng motherly duties in the coming months.
07/07/2017
We are currently taking expressions of interest in one maybe two male landseer puppies (Pet Only)
Sire and Dam are Cezar and Ura import Poland and Slovakia. See pedigrees under profiles.
Please email in the first intance [email protected] No time wasters please, serious enquiries only.
18/02/2017
Miranda and Johnny have become proud parents
check out the puppies on their new page
20/01/2017
WE ARE EXCITIED TO ANNOUNCE THAT WE HAVE PUPPIES DUE MID FEBRUARY
The expectent parents are Miranda (Newfashion Such Fun) and Johnny (CH Newfshion Walks The Line)
Brown and Black puppies expected, expressions of interest will be taken in a few weeks time once we know which puppies are available to show and companion homes.
21/08/2016
For all of you that have been asking, we have a very exciting litter due from our two Landseers,
Ch Cezar Cancrimo (IMP POL) and Mississippi Missouri Ura. All puppies will be white and black (Landseer) and are due on the 4th September.
We will call for exressions of interest in available puppies in the coming weeks.
In other news, Newfashion Newfoundlands have been doing extremely well in the show rings around the country. We are thrilled to inform you of our new champions and thank thier owners for the time and effort they have put into their dogs. Congatulations to:-
Sue Ann on Champion Newfashion Sure To Be Sure (Casper)
Lynn Vale on Champion Newfashion Wonders Never Cease (Odin)
and in our own kennel CH Newfashion Kiss The Blarney (Cora)
10/03/2016
Great news, we are back showing again after a long break, the Boarding Kennels and our puppies have kept us pretty busy over the last few months
We have hit the ring with gusto, Cora (Newfashion Kiss The Blarney) made her debut, winning Best Of Breed on six occasions, a Runner Up In Group, A Best In Group Third, Five Puppy in Group and Three puppy in show. We are extremely excited to see how far this young lady can go.
16/12/2015
Due to a last minuet cancellation we have a male puppy available for sale to the very best of homes.
puppy would ideally be suited to a show home however this is not our priority
interested parties are asked to contact us at [email protected]
16/11/2015
Ok here is the monent I know a few of you have been waiting for:-
We taking expressions of interest in one male black puppy from our current litter, this little guy will be ready to join his new family in a couple of weeks.
Please email applicaions via the contact page here on the website, as this will alert us of their arrival. Applications should tell us about your situation, where you live and your experience with the breed. We will assess all applicants and make a decision as soon as possible.
Please be aware that this puppy is from imported frozen semen and our import girl, therfore he will be priced accordingly.
We are also about to breed another of our girls who we have benn waiting for her to commence her season, if all goes well there will be black and brown puppies available around March next year.
12/08/2015
Hi everyone, well its been ages since we have updated our news page and quite a bit has happened over the past few months.
We have seen the arrival of Mississippi Missouri Ura from Slovakia,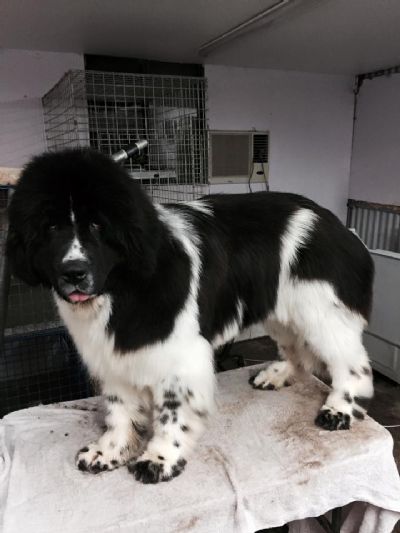 she is a lovely landseer girl who will be beging her show career shortly. A new page has been added for you to check her out. Landseer puppies will be available from her and Cezar later next year.
We have two new champions:
Australian Champion Newfashion Calls The Shots aka B.J ,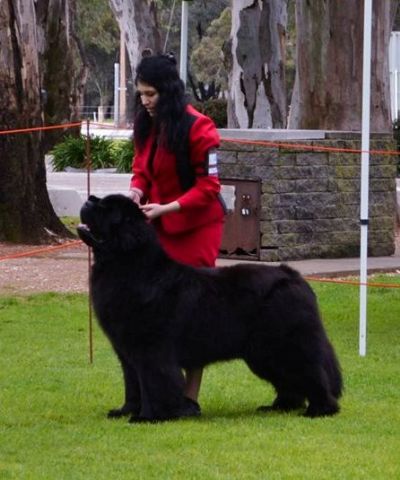 and
Australian Champion Newfashion How Very Dare You aka Derek,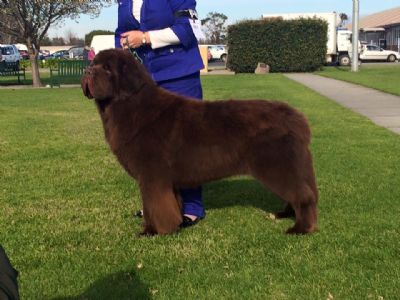 both have been on holiday with Jane Leeder of Capebass Newfoundlands so thanks must go to Jane and Emily for all their hard work.
Also on the show scene,
New baby Newfashion Its All About Me (Lawson) a Josh and Giselle kid is really making his mark on the show scene winning four Baby puppy in shows and six Baby puppy in Groups. Lawson is co owned with Julie Jenkins and ourselves.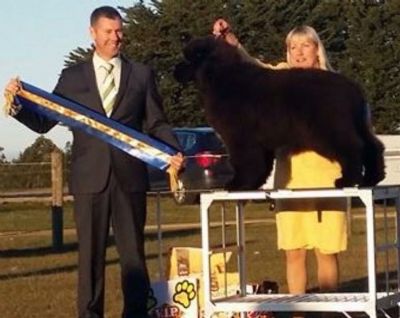 New baby Newfashion Wonders Never Cease wins Best Baby in Group at his second show, aka Odin is co owned with Lynn Vale and ourselves.
CH Newfashion Let It Reign (Ricco owned by Donna and Dave Baily NSW) continues to dominate the newfy world both locally and interstate. Recent wins have included BEST IN SHOW at the Newfoundlad Club of Victoria Championship show and Multiple in group and class in group placings. our thanks go to Donna and Dave for all thier hard work.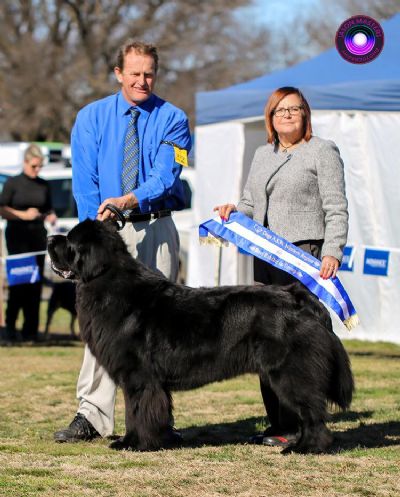 13/04/2015
LOOK WHO HAS FINALLY MADE HIS ARRIVAL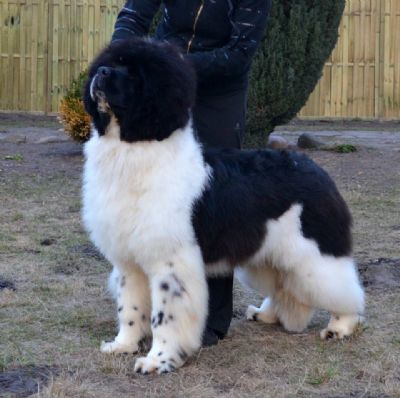 We introduce Cezar Cancrimo imported from Poland, a stunning young Landseer male who
opitamizes the breed standard. check out his new page under profiles
12/03/2015
WE HAVE ARRIVED:-
We are thrilled
to welcome the babies of Zeus and Gina, 11 babies born on the 12th March 2015.
Seven boys and four girls, nine brown and two black mum and kids are doing well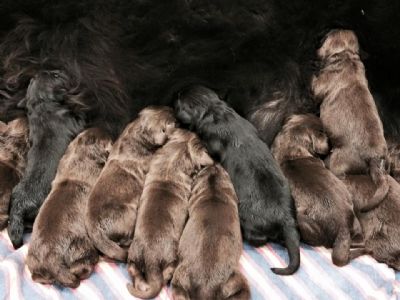 07/03/2015
UPCOMING LITTERS
We have been swamped with enquiries regarding our upcoming litters. A call for expressions of interest will be posted in the next few week once we know availability
, only the best homes
will be selected
for these very special
babies.
Litters are due to be born on the 13th and the 19th of March, puppy
pics will be posted to our current litter pages.
25/11/2014
PLANNED LITTER
The second of two planned litters for early 2015. Please note puppy availability will be posted once puppies
are born.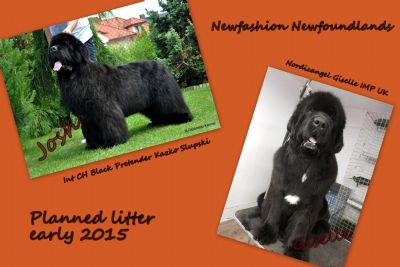 25/11/2014
PLANNED LITTER
Please note this exciting one of two litters is planned for early next year. Puppy availability will be posted once puppies are born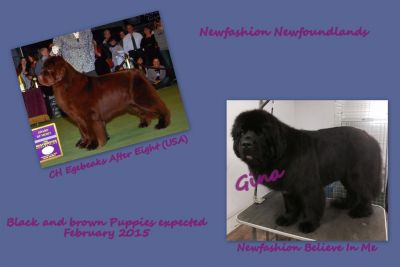 14/11/2014
NEW CHAMPION
It is with great excitement that we are able to announce that we have another Newfashion Champion, RICCO (Newfashion Let It Reign) gained enough points to earn the title of Australian Champion.
Ricco is the first puppy to be titled from our litter out of INTCH Thickish Newfoundland Keeper of Freedon and AUS CH Newfashion Makes Its Mark. We hope that his sisters Tilly and Gina will soon follow in his footsteps.
Our thanks go to Ricco's guardians Donna and Dave Bailey of Magnewficent Newfoundlands for thier hard work and dedication in some tough competition.
23/10/2014
Osca earns the right to go fishing.....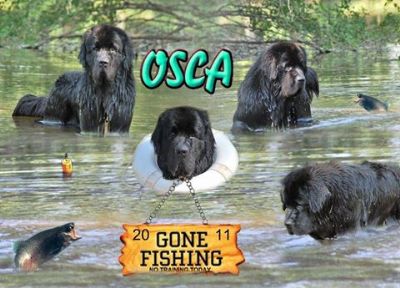 .We have received fantastic news from the USA, AM Grand Champion Newfashion Takes A Bow has become the first Australian bred Newfoundland to earn his VN (Versatile Newfoundland) title.
This is an exceptional achievement for Osca and his owner Susan Garett who has put in hours of work and dedication. Osca will now be know as American Grand Champion Newfashion Takes A Bow CGC CD RN DD WRD VN.
Visit Osca's profile page to see all the pics.
01/09/2014
It is with great excitement that we are able to report two pending new imports to Australia and our breeding program. One male co owned with G Webster and Capebass Newfoundlands and a female solely owned by us.
individual pages will be added soon, but in the mean time here is a sneak preview.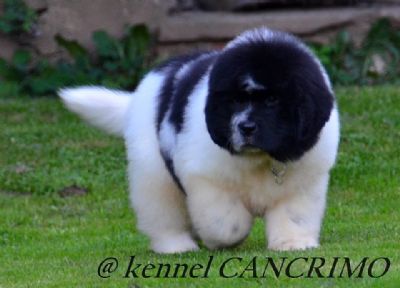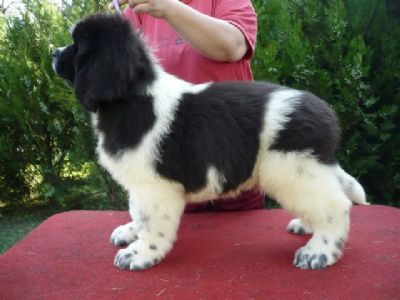 10/08/2014
Seems like we are on a roll, we have reached another milestone in our breeding program producing our 30th Newfashion Champion.
Congratulations and thanks to Jane and Lindsey Leader for keeping the faith with Johnny (Newfashion Walks The Line) who gained his championship today.
20/07/2014
Our breeding program has produced yet another BEST IN SPECIALTY SHOW winner, congratulations to owners Chris and Leah on Newfashion Reason To Believe (Tilly) win at todays Newfoundland Club of South Australia's Championship Show. Pictured here at just 15 months we believe she has a promising future.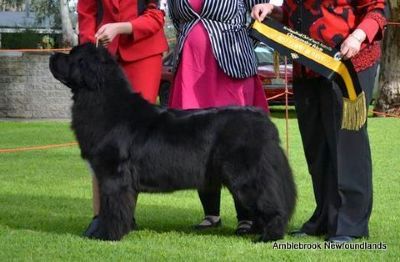 19/06/14
Sometimes we must post sad news, and on this occasion we are sad to report the loss of Daria (Newfashion Unique Diva). We would like to take a moment to pay tribute to our special girls who gave so much of herself not only in love but also for the fantastic contribution she made to our breeding program. Daria was the mum of four Australian Champions and the first ever Australian bred American Grand Champion Newfashion Takes a Bow (Osca). pictured here with her babies from UK CH Evanpark Bruce Almighty.
REST IN PEACE SPECIAL GIRL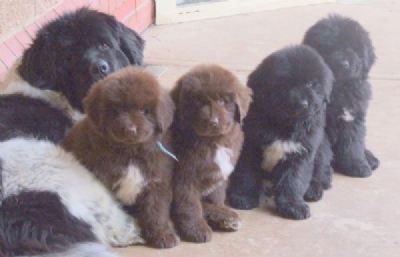 04/05/2014
PUPPIES :- due to a change in circumstances we have two four month old female puppies available to pet homes only. Our usual spay contract applies. please contact us for more information.
16/02/2014
New photos added to the current litter page today of puppies at seven and a half weeks
06/02/2014
Great excitement today as we welcome the arrival of Nordic Angel Giselle from the UK. Giselle arrived into quarantine this morning after a long flight. Please check out her page under profiles,
19/12/2013
it is with great pleasure that we welcome to the world our new arrivals born today. Two males and Four females, mother and family are doing well
Sire: INT CH JohnJohn Fitzgerald (Italy) Dam: Newfashion Turns Back Time........photos soon
27/11/2013
For those of you who have been following our site, you may have noticed that we have moved address. We are now the very proud owners and operators of The Murray Bridge Boarding Kennels, Cattery and Grooming Service. It can be a difficult decision to put your dog or cat into care and more so if you have a giant breed like the Newfoundland. Well now you have that option, we are equipped and experienced and can offer your newfy a home away from home whist you get on with your holiday. Give us a call if you would like more information. Details can be found on the links page of this website.
14/11/2013
Yes we have puppies due on the 19th December. Expressions of interest are now requested to make a formal application.
PLEASE NOTE: as from 15th November our new email address is [email protected]
15/09/2013
New page added today for Gina (Newfashion Believe In Me) we hope you enjoy our new addition.
11/08/2013
We have a seven month old black female puppy available to a new forever home, terms and conditions apply, South Australian home only on this one. Contact us for more details.
09/08/2013
New page added today, current litter, come and meet Leonard.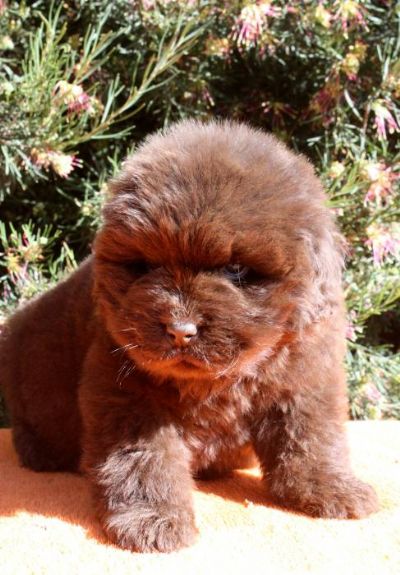 14/06/2013
Great result today when our young Derek won BEST IN SHOW
at the South Australian Newfoundland Club Specialty.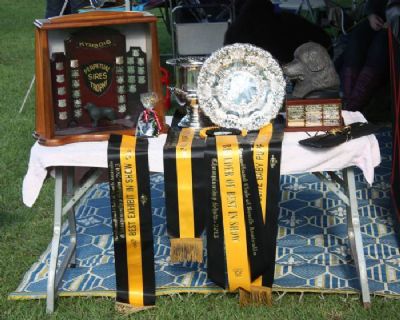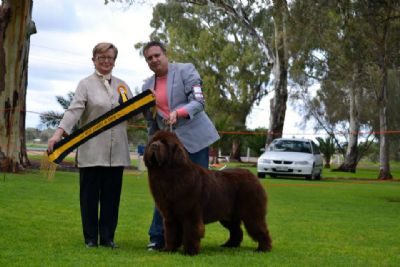 26/06/2013
Vicki has had a litter of one, a brown male. Mother and son are doing well, we will post pictures in the next week or so.
30/03 2013
New litter has arrived today, see current litter page for details
25/03/2013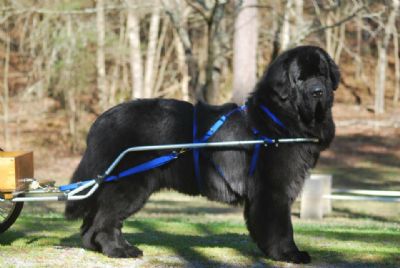 Wonderful news from the USA, AM Grand Champion Newfashion Takes A Bow. RN, WD has now obtained his Draft Dog title. Huge congratulatins to Susan and Osca who is well on his way to becoming a Versitile Newfy.
02/03/2013
Today we have added a new page to this site - "In Memorium" is a collection of photos of some of the beautiful dogs who we have loved and lost and who have given so much. We hope you enjoy this new page.
Contact Details
Ian Harland
Murray Bridge, SA, Australia
Phone : 0411607208
Email :
[email protected]